Back in Oct 2008 I took a business trip on my 2003 Yamaha YZF-600.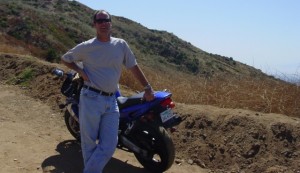 It was about a 400 mile round trip that started out at 7am and ended at 11:00pm with about 3 hour rides inside both ends.  I was trying to see how things would fair on a 600cc class street bike, and whether or not a long distance trip would be possible.
I remember for about 2 weeks after that my hands were just constantly numb and my fingers tingling.  I thought it was from the vibration — you kind of have that feeling in the feet when you go on a long ride, say 30 miles at a time.  However, this tingling just kept on going for days.
After doing some seaching, it appeared that I was just gripping the handlebars too tightly.  So I was interested in doing a long distance ride again, trying to stay loose and remain relaxed in the arms and hands.
So yesterday was the day.  Another 400 mile round trip, this time on my terms.  I started off at about 9am, cranked out 200 miles, and then arrived at my destination for a couple hours of work.  I didn't seem to have any problems with my feet or hands.  In fact, the only problem was my skrunched legs. I started back on the road at 2pm and took the back way through Buellton, Solvang (I'm not a fan), and then stopped at the Gainey Vineyard (I am a fan) to pick up a couple bottles of wine.  Picked up highway 154 east past Lake Cachuma, back over the hills to Santa Barbara, then continued home. Today all is fine, except for some sore inner thighs — lots of peg weighting and tank pushing with the legs. But the good news: no hand tingling at all!