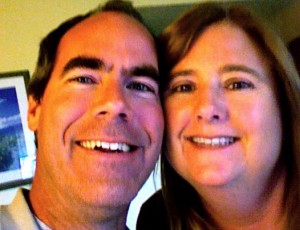 Well, if I have done my math correctly, tomorrow will be our 16th anniversary.   For some reason I can't figure out dates or remember how long certain events have been — they keep changing, and I don't tend to rethink things again, so things that change just seem to be problems.  Like my car.  For some reason, things just keep popping up.  My driver's side window switches went out for the left rear window of my 1994 Rodeo about a year ago.  Not too bad, but bad enough when I have to stretch way back underside the seat to reach and almost tweak my arm every time.  A $50 ebay purchase took care of that problem, but now the passenger side switch has gone out. It's not too bad this time because I can pretty easily reach across the car and hit the switch there. But it still is a pain. Stay tuned for a car hack job.
But sometimes change is good.  I look back on our relationship, and it has changed. It's kind of funny — I see friends and younger people at work, and everyone is just going through the same journey, just maybe a little differently.  Basically, the progression goes something like born, school, college, get job, form drinking click with workers (happy hour!), get married, have kids, keep working, and — well, that's where I'm at so I don't know the next thing.
But through it all there's been some life-changing moments.  The normal decisions like buying a house come to mind.  But the personal moments are the ones that stand out. Decisions when Cindy would stay home with the kids, what school the kids should go to, how to handle fertility issues. These are the things where the rubber meets the road, and couples have to sort through things. And I guess we've both changed through the journey. I recently asked her what makes a good marriage (I'm always pondering things that don't change) and her answer was "to remain flexable." I'd have to agree. I think the Marine Corps adage of "Improvise, Adapt, Overcome" really applies, but it's not so much of a singular directive. It's the both of us, improvising individually, adapting to the situation together, and then overcoming to get on.
So what holds for the next 16 years? I couldn't even guess. I don't think I really want to guess.  All I know that after the next 16 years I hope to look back and be more happier than I am now.  Maybe it's not to be more happier — maybe it's to be more satisfied with myself and more comfortable in our relationship.  Yes, that's it — to be more in tune with each other.  Hey, there's a whole motorcycle thing going on there.  Happy anniversary, Cindy (it's now May 29th)!