Well, there's been a few brown-outs in the last few weeks, and my UPS' seem to have dying batteries in them.  So instead of clicking over to carry the power for the brief brown-out, they just switch over, find they can not handle the load, and quit.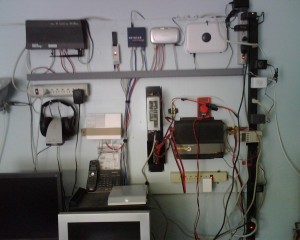 That's not quite what a UPS is supposed to do, and I got a lot of data backed on my Ubuntu server, which you can see behind the silver LCD display and under the 1.5TB Seagate backup drive.  Not that I'm worried too much, as the server has a 1TB RAID 5 configuration. A daily cron job rsyncs the RAID 5 array to the Seagate drive.
But having the server kill over still isn't good.  So I dug out my previous parts and resurrected the home brew backup.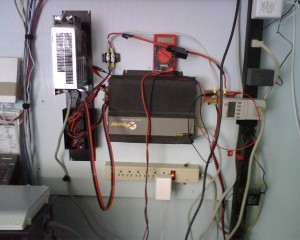 That's a 140 watt 13 volt switching power supply feeding into a West Mountain Radio PWRgate PG40, which then feeds into a XPower 1000 watt inverter.  Overkill, I know, but the inverter does not even seem to get warm, and its internal fan doesn't even blow. The server is then plugged into the inverter. Oh, the magic of the PWRgate is that it attaches to a battery and provides diode isolation and even keeps the battery float charged.  It has been running for a couple of weeks now, and seems to be doing fine.  Total power loss through the system seems to be about 10 watts.  That ends up being about an extra $1 on the electric bill, which is a OK price to pay for piece of mind.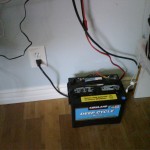 There's a shot of the deep cycle marine battery.  I do think it's stupid to keep it on the floor.  I will soon have a battery box so when it explodes it will hopefully contain the sulfuric acid to the box.  The switching power supply is plugged into the Kill-A-Watt monitor to check on power usage.  So far, it seems to be averaging about 115 watts, which is about $11 a month for running the backup system and server.
A close-up of the power shows 115 watts.  That's not completely true, as the power factor is actually 0.64 for a actual VA rating of 180 VA.  Crappy power factor, I know.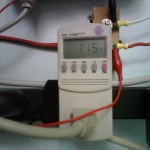 At 223 hours so far, I've consumed 26.5 KWH. At $0.14 per KWH, that works out to $3.71 for 9.3 days.  That works out to $11.98 for 30 days. Hey, not bad estimating up there (I didn't round up in my estimate).
The only issue I have is that the power supply wants to be forced cooled when running over 100W, so I've rigged a little computer fan that is sitting on a bed of silicone for mechanical isolation.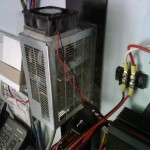 I've used the highest quality alligator clips to supply power to the 12VDC fan via the battery.  Now that I write this, it's actually stupid so I will now switch the fan power to the supply and not the battery.  I have noticed a small decrease in the battery voltage when it should be increasing from the float charge. There.  Switched over to the inverter supply line.  If that stupid alligator clip falls off then the supply might not survive.
Someday I should go over the other items on the equipment board.  I have not talked about Ooma — it's great!